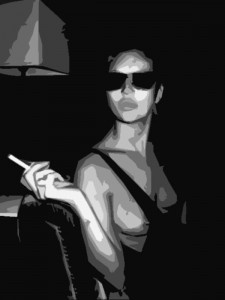 Dinner with the neighbors. Dinner with a  man who has made my wife "puddle" as she thought of him while sunbathing naked on our balcony, which I know from reading an excerpt of a diary on her computer. I believe myself when I say that this moment of weakness was uncharacteristic, and I do still regret it, even if that moment of weakness has been compensated by the great moments we've had since. I think of her face thrown back in an orgasmic scream (lucky neighbors). I think of her laughter once we're back on earth and sharing in the story of the planets we've just visited. We're having fun.
I am growing accustomed to my wife's desire to be something separate from the institution we call our marriage, and I've come to realize that I would be a fool (not to mention denying myself good fun) to imagine that a woman's desire could be anything but her own. The sight of my wife naked still turns me on, but the sight of her naked as photographed by another man, in her own emotional space, drove me absolutely insane with lust. It was easy enough to play dumb as she explained the origin of the photographs, simply because their eroticism had me completely flabbergasted. Who was this bombshell in those photographs? I had to have her. Oh, that's right. The bombshell was the woman standing right there in front of me, explaining the origin of the photos.
Of course I had the advantage of knowing what she was up to on the night in question, but then she's always had the advantage of knowing what I'm up to, too. In this case, I refer specifically to the plural "neighbors", which in this case meant a wife, which more specifically meant a fabulous pair of vertiginously stacked breasts and a charming penchant for cold white wine on a hot summer night. Though I don't particularly think of myself as a breast man – I'm more of a head-to-toe man – these breasts, shown off so flagrantly in her low-cut top, were inspirational. And I had my own secrets. I knew how a woman got a body like that, because I had run into her a few times at the gym, and as she'd made me dizzy with her elliptical trainer, we had talked passionately about the weather. And what I really wanted to know was if the neighbors had a balcony, and if the neighbor's wife occasionally got naked there to sunbathe and dream of neighbors until she "puddled". As I watched her take in my wife's naked photograph with more naked desire than her husband dared show, and as she flirted with me over dinner beneath hooded, gaudy eyelashes, the question of her balcony seemed to me the fundamental question of our time. Also I should probably note that I was drinking as fast as she was.
Ooh, I'll skip to the good part. I knew what my wife had to do. I knew that she would have her own moment with the husband, her chance to make him squirm, and as she went off with him after to dessert to make sure he hadn't missed her nude, his wife saw her chance to make me squirm too. Women! I kneel before ye.
So, I was alone with the neighbor's wife at the dining room table. She let her wineglass slowly drift from her lips and said this: "God, she's incredibly sexy, isn't she." My wife had been talking of orgies…and the neighbor's wife had released a foot from a showy heel to wriggle her toes up over my knee and into my crotch. This was some professional toe work, but reader, I held it together. In my mind's eye, at least, I actually remained cool. "Yes," I said, manly, nonchalantly, and also probably everything else but that. "She is very…very…very…very sexy." And with every "very" her foot nudged harder into me until it was impossible to deny my hard-on and equally impossible to look at anything but this woman's delicious, heaving tits. I did manage a couple of "casual" glances up at her percolating smile, which she kept splitting with her wineglass to dart a naughty tongue towards the juice. I wanted to leap across the table, rip those trashy threads to tatters, throw her across the dirty dishes, and redefine "very…very…very sexy". She really had me going, and I had her going too. Talk about fun. Then my wife and her husband came back to the table, looking a bit dizzy themselves. Then it was late, and we were making halfhearted excuses, and promises for the future, and they were out the door and gone. It probably didn't happen that quickly, but it felt that way. I do know that I still had half a hard-on.
Once we'd cleared off the table, my wife and I met for a nightcap on the balcony. The moon was up, perfectly sliced in two, but this time on the balcony she was not just one half of a whole. "Take off your clothes," I said. She never needs an invitation to take off her clothes, but I love it that when I get dictatorial she'll still sometimes blush. She lay down on the couch out there and wriggled snakelike out of her clothes like a schoolgirl afraid of getting caught on a prank, giggling like one too. I watched her with my cock out, marveling at her miraculous lines. At some point this woman must have sold her soul to the devil. Her body never ages, but from the way she laughs so naturally and so often, I know the devil paid handsomely and she got the better deal.
Laughter's just foreplay, though. For passion I need harder angles. I need hints of devastation. I was ready for her, my pants off now, my shirt – stripping under the moonlight, unafraid, like one of those beasts who comes alive and grows fangs after midnight. Oh, I pounced, and she spread herself for me on the couch. Do I need to say it? She was a puddle. I hooked up into her quickly, and as the stars swirled she screamed out like some beast of her own, one of those beasts that makes my kind of beast relish his animalistic powers and howl at the moon. I thought about the neighbors. They must have feared the neighborhood was being overrun by feral wolves. Or probably they were fucking themselves, moaning out at their own moons (with those delicious breasts finally unfettered and moving in an enticing rhythm).
I saw it all from above, as if I was a planet of my own. I saw the whole neighborhood fucking, everyone shedding their daytime faces for a howl at the moon. My wife was twisting beneath me like a fallen angel still desperately trying to take wing, and suddenly I wished I had a camera with me. I would snap shots of the whole neighborhood in their carnal rut, and then I would immortalize her from every angle – long shots, close-ups – and hang hundreds of pictures up all over our walls so that no dinner party would ever be politely boring again. Did you see my wife's tits? Have you heard about her ass? Fabulous paté. Yes, that's a dildo. Let me serve you some more wine. Lacourbe, I think it's called, though that may be the lingerie. Thank you, I'll have more of your slender foot in my crotch. Yes, that's my wife, and yes, she has disrobed. Cheers!
Need to catch up? Read the Sex Experiment from the beginning: Table of Contents
Then subscribe to our newsletter for a free copy of Mr. X's hot, hot novel, The Known Experiment, and choose to get updates on blog posts, books, and special offers.