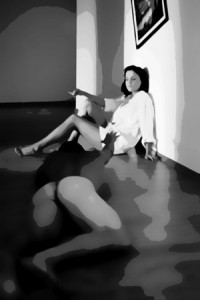 Readers of the blog and our steamy social network often write in asking for tips on how to make sex more daring. These readers are occasionally single and looking for a creative spark, but most often they're in a relationship and searching for ways to introduce new sexual possibilities into their relationships. With that in mind, today we're debuting an occasional column called  Experimental Advice. From time to time I'll post e-mails I've received from readers looking for advice and willing to post.
Before we begin, I should probably state the obvious: I have no qualifications for advising anyone about anything. But I love sex and possibilities and articulate strangers, and I'll respond to questions as best I can (send me one at advice@thesexexperiment.com). I imagine our adventurous readers will also share their thoughts in the comments section, adding some erotic insights of their own.
Today's e-mail comes from Michael, who lives in the U.K. Let's have fun.
Dear Mr. X,
I've been reading your blog for a while, and the adventures you and your wife share have totally turned me on, but honestly they've also made me wish I had something similar with my wife. Nothing crazy, but at least a few more risks. I'm still very much in love with her. She keeps in great shape, I notice men looking at her all the time, and mostly we have fun together. We have sex a couple of times a week, I guess, and it's good. We both like fucking and we're faithful to one another, but we met when we were in college, and I get the feeling we haven't really progressed in our sexual relationship. She's definitely more reserved than me (she never makes any noise when we fuck, although she says she really likes it), but it's logical to think she has her own unfulfilled fantasies. Maybe not as much as me – I definitely want a lot more and think I'm pretty open – but I'm at a loss as to how to start the conversation.
I'd love to give her a dare, but I have no idea how to go about it. I'm afraid she'll be frightened if I do it anonymously, and that she'll feel inadequate if I give her one myself. But reading about Mrs. X gets me so excited I realize I've got to somehow do something. Any advice?
Thanks,
Michael
Dear Michael,
Great lovers are great psychologists. Even a perfect physical specimen who openly "loves sex" will be a bedroom bust if they're incapable of gauging the specifics of their lover's desires. Sex always starts in the mind, and that's what makes it so unpredictable and exciting. So it seems to me that the first step in daring your wife is somehow engaging her in the psychological game of it.
These are a couple of "starter dares" I've explored in the past with readers: asking for five words they find sexy as a way of getting inside their erotic minds and devising future dares; and daring them to write down a fantasy and leave it in a public place (training the erotic muscles, in a sense: articulate a fantasy, and it becomes easier to articulate the next fantasy – and leaving the fantasy in a public place lets you feel some risk without having to take the bigger risk of actually sending the fantasy to someone you know). Other couples have introduced their partners to this blog as a way of starting a discussion.
But maybe these still feel like too big a leap to make. Only you can know. Maybe there's some fun to be had with your wife's sexual silence: talking dirty yourself as you fuck and seeing how she reacts, or putting on loud music to provide cover for moans and groans. Or maybe she's just made to be silent, serious and restrained (which can be even more exciting than the loud ones – the language simply becomes different and sighs become as powerful as screams).
Ask her who's the sexiest man in the room (you don't count). Brush up against her body in a public place. Ask her for the first fantasy that comes to mind when she's warm and open after sex.
And here, you're realizing, is the catch: to dare her, you're going to have to dare more yourself. The first step is yours to make, and that can be scary. You can't expect her to transform into a sex goddess unless you've transformed into a sex god yourself. Otherwise all these possibilities that excite you will remain fantasies. As with any creative act – and sex must be the ultimate one – you've got to put yourself on the line to have any hope of bringing the imagination to life.
This is starting to sound less like sex advice than life advice, but I've come to believe that there's not any difference. Life is a creative act just like sex is. Living is risking, just like good fucking. Nothing is better than tearing down a wall in the bedroom. All of our encounters, really, are like sex. The most powerful people in history have realized this (which is why it's such folly to expect our politicians to be prudes). I realized this a few years ago, and it has helped me in my dealings with friends and strangers and colleagues alike. There is seduction: swapping stories, avoiding boredom, introducing possibilities. Foreplay: paying attention, giving freely, staying patient, and establishing trust. And fucking: pacing yourself, destroying boundaries, letting go. And then fucking again and again, making it fresh, finding new boundaries to cross together, permanent seduction circling around to fucking again, the spiral deepening as it goes.
It's the game of life, and your wife loves a game as much as anyone. But it's up to you to start the new cycle of seduction by making a move. And if you show her that you love her – that's all – I think you'll be surprised by the eagerness with which she'll respond to whatever you propose. If you've been together this long, you're probably even better matched than you think. And if you doubt that, and are worried about the consequences of failure, remember that if you don't risk, then you've already failed.
Double daring you,
X
This post was brought to you by XXX Sex Guides.
Share something sexy:
Dare me. And that's a dare. Tweet
Need to catch up? Read the Sex Experiment from the beginning: Table of Contents
Then subscribe to our newsletter for a free copy of Mr. X's hot, hot novel, The Known Experiment, and choose to get updates on blog posts, books, and special offers.