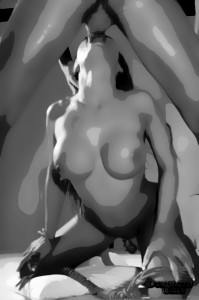 Is it odd that 90% of my sexual fantasies involve my wife? That seems like some kind of unnamed disorder to me. Not that you can't fit a lot of bodies into the non-wife 10% (and sometimes they won't fit), but seeing her so sexually uninhibited just makes me more sexually uninhibited (and there's probably a psychological name for that too). I walk down the street shooting molecules off my skin, and the women grin, knowing what I'm up to. Everywhere I look I see happy endings.
Do I mind that my wife let herself be manipulated to a happy ending by a masseur I've never met? Not at all. Mostly I just wish she'd freed his cock from his pants to wrap her red-painted lips round it with hypnotized lust. A couple of months ago, before I started this experiment, I imagine I would've felt a slight catch of jealousy at the thought, but somehow her experiments have been my experiments too, and we've evolved together.
After the result of The Business Card Experiment, I can only assume that now she's writing not to Mr. X, but directly to me. She must know (not about this blog – yet – but who's behind the game). And yet, Mr. X has given us the freedom to say anything and everything that turns us on while maintaining the pretense of anonymity. We've suspended our disbelief. We've been swept away by a movie of our lives. Of course we all play roles in life, but sometimes our roles trap us in boring habits, and these new, made-up roles have allowed us to recast ourselves.
The morning after the massage experiment we woke with the sun streaming through the windows, and she'd clearly had sweet dreams. Opening my eyes, I watched her hand slink under the sheet towards my crotch. I'd woken with a hard-on from some unremembered dream of my own (maybe of happy endings with daring readers like Lisa or Alice). She flicked away the sheet with the back of her hand to look at the length of my body, and with a quiet, animal fascination she began to study the way her fingers were rippling up and down my pulsing shaft. I turned my face and nuzzled into her waist to cover it with kisses. This tickled her, and she giggled a bit before arching away to drop her open mouth down onto my cock, reestablishing her dominance of the rhythm. Her lips were swollen with desire, and I groaned with pleasure and she took more of me deeper and deeper, tapping the marble-like ridge of my vein with the tip of her tongue. After a while she let her tongue trace the ridge back up to my throbbing head and proceeded to lick it with the moist flat of her tongue.
"I love to suck cock," she said, pausing with mine for a moment to study it as if it was a stranger's. A month or two ago, she would have said, "I love to suck your cock" (and hopefully she will many times again), but now "cock" has become its own category of erotic possibility. I came almost instantly. Then she rolled over into my arms and we napped for a bit before starting the day again.
Need to catch up? Read the Sex Experiment from the beginning: Table of Contents
Then subscribe to our newsletter for a free copy of Mr. X's hot, hot novel, The Known Experiment, and choose to get updates on blog posts, books, and special offers.