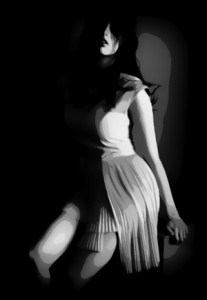 We are constantly learning desire. I'm thinking of Mona realizing for the first time in her life that she might like to watch, rather than always being the one who's watched. Seeing a beach club waiter ogle her friend's naked body, she was surprised to find that she'd like to watch that friend getting fucked. And Mona's new desire teaches me something new about her. She's always been sexy to me, both in our occasional real-world contacts, and especially in our secret e-mail adventures, but she's also been slightly comic to me, somewhat of a sexual caricature, charming because she was always aware of the outrageous role she was playing. But now I imagine her watching her busty friend fucking a tanned stranger. I imagine Mona fully clothed, her eyes wide with attention as she watches, curled into a chair, her nipples hard through a modest shirt, her mouth slightly open, her knees gently pressing against one another….
And I am wildly, dangerously excited. I imagine we might go to rich, dark places together. Her new desire opens a new desire in me.
Passionate desire can only be felt for what we don't fully know or understand. That explains the difficulty of marriage. And the appeal of the stranger across the bar, and the new erotic situation. But we don't know what we don't know (and might desire) until we've put ourselves out in the world and risked something. It's a risk, because what we learn about what we don't know might inspire a desire to learn more.
I'm guessing that desire for new knowledge is why Mona came so quickly standing naked under her shower, thinking about her sexy friend being fucked. And that's what this site is about: learning risk to find desire.
And now I'm going back to Mona, curled up in her chair, a high-heel dangling distractedly from a toe, her eyes still wide, surprised by lust.
Share something sexy:
We are constantly learning desire. Tweet
I'm learning risk to find desire. Tweet
Need to catch up? Read the Sex Experiment from the beginning: Table of Contents
Then subscribe to our newsletter for a free copy of Mr. X's hot, hot novel, The Known Experiment, and choose to get updates on blog posts, books, and special offers.