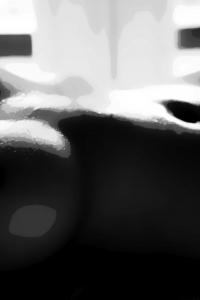 Yummy Mister X,
Oh you are NAUGHTY. But I'm naughty too! And I love being the object of your teenage boy fantasies. How did you know I like to wear teeny bikinis, you monster? Am I that obvious? I hope so, because that's the point of a teeny bikini, isn't it? Since you still insist on being a funny mystery and not just coming over to my place again and seeing how my bikini fits for yourself, I will describe it for you.
The one I wore most this summer was dark red, or burgundy I guess. The top is skimpy, but not totally trashy I swear! It has a string that ties around my back and a string that ties around my neck. The bottom is tied with string too, one on each hip. It covers about half of my ass, and baby my ass has been looking too hot. I have been going to the gym for the past six months. Step machine for an hour and then even the weights. The boys in there love showing me how to work the machines, and they really pump me up!
So I was traveling all over this summer, but I was in the south of Spain when I really started thinking about your dare. The beaches were so crowded that my girlfriend and I (she has a house on the coast and invited me for a week) spent most of the time by the pool at the house. Both naked, of course, and her boyfriend was not complaining! Then sometimes when we needed to see some people and have some fun and drinks, we would go down to the beach club where they have a DJ and these sexy beach beds you can spread out on. Later in the afternoon the music gets louder and people can go a little crazy. Most of the crowd is pretty young but that never stops the guys from coming over and talking to us. I guess we look like we know what we're doing! Also some of the women there go topless, and do I have to tell you whether Mona was still wearing her teeny bikini top? Of course not! Especially after all these weights, I love showing myself off more than ever.
Honestly the music in this beach place can get so loud my head hurts, so my girlfriend and me were a little hidden away from the pool on a sunbed in the corner. Her boyfriend is an artist and says places like this kill his soul, so it was just my girlfriend and me. Maybe it can be loud, but I am different. Places like that make my soul feel happy. And HORNY! We were drinking a bottle of wine and talking and tanning ourselves front and back, not really paying attention to much around us. Occasionally we would see a hot guy walk pass, and we would give him something yummy to look at. When we got just too hot and sweaty we would go for dip. With our bikinis on! Sorry! And then I would see all the sexy Spanish guys watching me, so that got me pretty hot, and later in the afternoon I was thinking about your dare.
We had finished the bottle of wine and were sleepy and hot lying there in the sun with our tits out. I was half dreaming and feeling the sun on my skin and the sweat on my thighs. My little vazoom was so hot too, like it was melting like butter. I had one hand on my thigh – StairMaster, baby! – and I just wanted to slip that hand down between my legs, slide a finger into my bikini, and come FAST. I opened my eyes and saw my girlfriend seemed to be really asleep. I sat up a bit and looked around. There were two young couples speaking Portuguese on the next sunbed, and of course the guys were looking at my body out the corner of their eyes, ignoring everything the girls were saying. I did some stretching! I stretched my arms high in the air and closed my eyes so they could really get a good look! I know those cute little girls were checking me out too. My tits were as tan as the rest of me after a week of sitting by the pool. They are still pretty tan, Mister X, and that's an invitation!
Anyway nothing was going to happen with those boys, so I looked around some more and noticed a waiter leaning up against the closest bar. He was really tan and wore a white t-shirt and tight white pants and he wasn't even trying to pretend that he wasn't watching me. He was just standing there looking at me half naked and smiling. DELICIOUS. I love a man who knows exactly what he wants, especially when he wants me! So here goes the teenage boy fantasy, Mister X. I was thinking about you! I reached over to the table at the side of the bed, showing my ass to the Portuguese guys, and grabbed my some lotion. SPF 8 to get brown all over. Then I started with my feet and worked my way up. My calves, front and back. My thighs, front and back, massaging them. Poor pussy! I skipped you! But my belly, my breasts, my nipples were hard, my neck and cheeks. I did not want to be too obvious, but I looked over at the waiter occasionally, and he was still watching me. Then I flipped over onto my front, squirted some lotion into my hand and started squirming around like a fish on land, trying to spread the lotion on my back. My friend was still sleeping. I looked over at the waiter and gave him a pouty look. He smiled. I shrugged and smiled back. Helpless little Mona!
So the waiter started walking over to me. How predictable is that! In Spanish he asked if he could help me. I guess he could not tell where I was from. I told him I was desperate for help. He laughed and I handed him the bottle of lotion and didn't say anything else, just lay there like I was expecting a full body massage. I closed my eyes and almost immediately felt him sit down on the bed next to me and his hands on my back. "Get every teeny weeny spot," I said. "If I get burned, it will be your fault." He laughed and rubbed the lotion on my shoulders, massaging it in towards my spine." My whole body tingled and my pussy was already on fire. I pushed it into the bed beneath me, just SO wanting to come. I am sure he saw the muscles of my ass moving back and forth as I did. I was squirming, but not from shyness. "Lower," I giggled, Mona playing so innocent as he rubbed the lotion down over the muscles along my spine. I could feel the warmth of his body close to mine, and I squirmed some more, wanting him to slip and cover me completely with his muscles.
When he was getting closer to my ass, I opened my eyes and turned my head on the bed to look at my friend. She had woken up and gave me a little grin. I blew her a secret kiss, and she rolled her eyes – crazy Mona – but she likes fun too and sort of stretched out her arms like she was just waking up and twisted all the way around until she was on her back and her breasts were in the air. I felt the hands of the waiter slow down as he was getting really close to my half-naked ass. I knew he was looking at my friend. I could see her smiling really sexy up at him too. Then she asked for the bottle for a little squeeze, and he handed it over. She squeezed some lotion into her hand and gave it back. His hands were moving down along my sides now, and I spread my arms for some easier access. Meanwhile my my friend was rubbing lotion over her belly and tits. Her nipples were totally hard, and I just knew the waiter was watching her, but funny for Mona, nothing about me was angry. I was just getting so totally excited, and I was thinking about the waiter with all his clothes off and imagining that he was on the bed fucking my friend, driving her crazy! I am not really a voyeur, I swear, but that image totally excited me, imagining the two of them just going crazy together with me lying right beside them. It is a totally new fantasy, Mister X. Normally I like to be at the center of the action, but now I really want to watch two people fucking. Even though my friend is totally hot, we are too close to ever fuck each other, but for weeks I just kept thinking about watching her fuck somebody else. Hey, even her boyfriend!
So anyway, I could not dare ask the waiter to do my ass and my legs, and I guess my mind was someplace else, so when his hands left me, I rolled over so he could see my tits too, and I blew him a kiss and thanked him for being such a MASTER of lotion. I told him I would never be able to use anyone else. He laughed and did this funny macho wink and went back to his station.
"You should fuck him," I said to my friend later.
"Oh baby but he wanted to fuck you, Mona," she said. "You should have seen the way he was staring at your ass." When we got home I took a shower and came with my fingers thinking about him and my friend, but I never saw him at the beach club again.
So there you go, Mister X. I hope your hands are feeling your cock right now. Next time why don't you come over and let me play with it.
Kiss,
M
Need to catch up? Read the Sex Experiment from the beginning: Table of Contents
Then subscribe to our newsletter for a free copy of Mr. X's hot, hot novel, The Known Experiment, and choose to get updates on blog posts, books, and special offers.