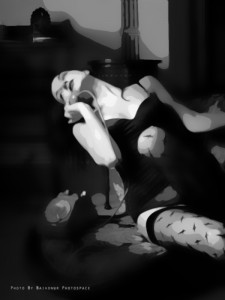 Pinup Girl,
I'm such an easy grader. You take nude photos of yourself for an assignment, you don't send me a single one as proof of your work, and I give you an A+ anyway. Am I losing my touch? Have you become too cool for school? Do you need to be severely reprimanded? Disciplined? Spanked?
Maybe you just need to talk to someone about that attitude of yours. I believe they have hotlines for this sort of thing. In your case, however, I want you to be the hotline. Here's what I mean: I want you to go to the Craig's List site and choose any American city. Under 'Casual Encounters', I want you to post an advertisement for "Free Phone Sex". Make the ad as enticing as possible, and try to frame it so that you'll get "clients" with fetishes you wouldn't mind discussing in a breathy voice. Include hours at which you can be contacted and include your new phone number (more on this below). I have authenticated a Craig's List account for you with this e-mail – [e-mail] – and this password – [password]. You'll need to log in before posting, and in your post I'd advise putting a dash between each digit in your number – posts with phone numbers tend to get taken down.
I've set up everything to make this easy: log into Skype with the username [username] and the password [password] (feel free to change the password); the account already has a U.S. phone number attached to it: [number]; once you're logged in, click the 'Skype' menu option, then 'Account…'. In the window that opens, click 'Call Forwarding', then 'Add a Number', and enter your personal mobile phone number (I put $20 on the account, which should get you quite a few conversations. No worries. It's my pleasure. And if you ever decide to take up phone sex for full-time pay, you can always cut me in. Also, don't bother searching for my payment information. I've removed it. I am Mr. X. My address is X. My phone number is X.).
All set up? Good. Now comes the fun part. Post the ad and your phone will begin to ring. If you've posted it for a larger city, I imagine it will ring often. You'll see the American number appear, and you'll know it's someone calling for long-distance sex, but you don't have to respond. Choose the moments that suit you. You might even want to test out your technique with a couple of callers before you let yourself be drawn into really erotic back and forth. In the process you may devise charming ice-breakers and coy little come-ons. The idea, of course, is that you enjoy this too. Are there secret fetishes it might excite you to confess to a stranger? Are there naughty phrases you've never dared speak to a man? Have you ever fantasized about being a different sort of woman for a night? Then confess it, speak it, present yourself however you wish. At some point, however, your phone sex must meet two requirements: 1) it must last for at least five minutes; and, 2) it must be done in a public place.
Now talk dirty for me.What's that? You want a chance to earn some extra credit too? That seems a little greedy, considering you're setting the curve in this class, so this time I'll only award bonus points for near impossible achievement: add infinity if you manage to meet requirements 1 and 2 while also managing to come. You asked for it.
All ears,
X
Need to catch up? Read the Sex Experiment from the beginning: Table of Contents
Then subscribe to our newsletter for a free copy of Mr. X's hot, hot novel, The Known Experiment, and choose to get updates on blog posts, books, and special offers.