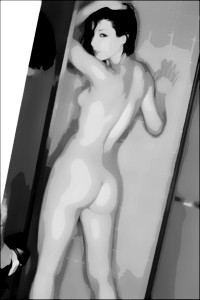 When I got my wife's e-mail response to her "anonymous" admirer, my first reaction was admittedly a burning jealousy that hit me right in the gut. Clearly she doesn't yet suspect that I'm Mr. X (or else she's as savvy at playing this game as I am). As I read her e-mail again, however, the jealousy quickly shrank as my cock grew (that's Newton's Fourth Law, if I'm not mistaken). I know the waiter she was talking about (not particularly handsome in my opinion), and I had flashes of her fucking him, images of her firm body wrapping herself around his. I was sitting in my office with the door open. She was out there in the living room at her own computer, and the thought of her fantasizing about her day's experiences got me more excited than anything. I wanted to walk up to her and let her see the bulge in my own pants. I wanted to see her eyes glaze over in lust and reach for me, to take me in her mouth as if I was nothing more than the closest cock at hand to satisfy her desires. But we both just sat at our own computers, both dreaming of the sex that we could be having but weren't.
Desire is funny that way, isn't it? It may be the closest human emotion to nothingness. Desires live in a void. They are by nature unfulfilled. But that's not why I've started this blog. I've got the sex fantasies (and so does she, obviously), but sex fantasies aren't enough. I want our fantasies, and our desires, to change our lives, to create some private territory between us that needs to be conquered again. Do I want to fuck other women? Sure. But I'd also like to fuck the other women in her. And the one who discreetly shows her pussy in our favorite restaurant without me around is one I'd very much like to meet!
I went for a run before dinner. As I slipped into the shower she was still at her computer. My frustration somehow made me even hornier, and in the shower I soaped my body all over, letting my cock slip through my fingers, imagining others seeing her naked body, or other people watching us fuck. I was deep in this fantasy when I felt a cool hand on my stomach. I slowly wiped the shampoo from my eyes, then watched as she went on soaping me, circling my cock with her finger and thumb with such unusual skill that I wondered if she'd been practicing. How? Then we kissed and pressed our slick bodies tightly together. We were both panting with desire, but neither of us said a word. We went on kissing, and then she slowly twisted away from my mouth, turning to place her forearms against the wall of the shower and offer me her smooth, soapy ass. I reached my hand between her legs and felt her even wetter than the hot water that ran down over our bodies. Her thighs were slick with her own juices, and she was hornier than I'd seen her in months, maybe in years. So was I. Gripping her hips I slowly slid into her, and both of us panted, grunting like animals, slipping away from each other, banging up against one wall then the next before quickly finding our fuck again. I pressed my hands to her breasts, my palms traced her hard nipples, and I imagined that she was thinking of the waiter, of him staring down at her breasts and growing excited. But then she was also thinking of me, banging up against me like a woman possessed. And all the while, even afterwards, neither of us said a word. Smiles at the end, yes, but otherwise this was pure fucking.
This has gotten me very excited, needless to say. There are distinct possibilities…even if it's going to take us both a while to figure out how to approach this thing. I'm wondering whether it might be better to admit that I am Mr. X, which might make it easier for us both to bridge the gap between fantasy and reality, but I'm going to roll with it as it is for the moment.
So after dinner tonight I sent her one line from Mr. X: Truth or dare?
Three minutes later she came back with a one word response: Dare!
Onward!
Need to catch up? Read the Sex Experiment from the beginning: Table of Contents
Then subscribe to our newsletter for a free copy of Mr. X's hot, hot novel, The Known Experiment, and choose to get updates on blog posts, books, and special offers.