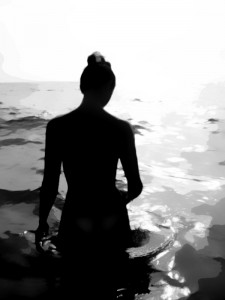 Miss Kiss,
Here's hoping this e-mail finds you as delicious as ever. I've been plotting new adventures for you, and as tempting as it is to dare you to peel off your clothes and do absolutely everything to intriguing strangers, I realize that at this point in our relationship, at least, my role is more catalyst than master.
So here's an experiment, a catalyst that may send you off into your own experiments or may simply be a kick. Just don't assume that this more innocent run of dares means my intentions for you have become any more innocent. Nope. They're dirty, lady. They are orgiastic. They are an endless series of mind-bending fucks.
So here we go, "innocently".
Over the next few days I want you to take a walk. I want this walk to be taken in a place where you'll feel anonymous and free. Maybe there will be people in the distance, but no one should be too close. Maybe you're alone in the woods, maybe on a quiet neighborhood sidewalk.
As you walk, I want you to force yourself to talk aloud, like Thoreau reciting poetry to the trees. Don't mumble – speak as if to a friend walking beside you. And your discourse for today? Have you already guessed? Yes, your deepest-held sexual fantasy, my wanderer. What exactly do I mean by "deepest"? Well, knowing you, I guess that means your most pressing fantasy this week. I want you to speak aloud every little detail of this lusty dream (I insist upon details that will make you blush, even alone). Let the words flow so spontaneously that you might just find the sexual fantasy taking a turn you hadn't expected.
Then, horny stroller, write me with the details of what happened, both the intricacies of your sexual fantasy and the setting for your speaking it aloud. And I'll be dying to hear where you send yourself off to.
Walk on,
X
Need to catch up? Read the Sex Experiment from the beginning: Table of Contents
Then subscribe to our newsletter for a free copy of Mr. X's hot, hot novel, The Known Experiment, and choose to get updates on blog posts, books, and special offers.