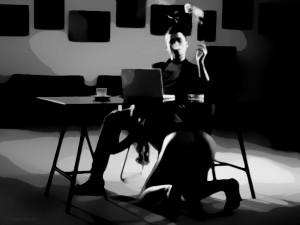 Based on the fantasies shared by women on this site, you men on the make would do well to hang out in bars. Also, you'd do well to forget your name and operate anonymously. There was Sloane's Fantasy Experiment, then my wife had a quick, anonymous tryst in the bathroom (and then there was that time the fantasy got real – and planted the seed for this dare?). The approving comments from female readers have confirmed that bar fucks are having their moment. This longing for anonymity fascinates me, and not only because it is shared by my wife. This desire for pure sex without the chance of consequences fascinates me, maybe because although I love pure sex as much as the next person, I love the chance of consequences, the human touch, at least as much. I wonder if there are two genres of fantasy, the "romantic" and the "sexual", and although they often overlap, I wonder if women (in general) more clearly separate the two than men. Is that counterintuitive? Men are often said to compartmentalize their emotions, but I wonder if when it comes to quickies, women are wiser about keeping sex in its place, because they know all too well how quickly a wider mix of emotions can become chaotic. Or maybe these are called "fantasies" for a reason. Further research is required, people. Hot glances need to be exchanged across crowded bars, and the bathrooms must be populated.
I'll also tell you a secret. My wife's anonymous stranger was dressed in a way that tends to be my general uniform. I'll tell you something else: somehow my excitement over her increasingly articulated desires would have been even more powerful if her fantasy object had looked nothing like me. And something else: when she arrived home from the walk on which I'm guessing she spoke aloud her fantasy for Mr. X, I was in my office at my computer. She came in, and without a word she crawled beneath the desk. "I've been wanting to do this," I heard her say. "Just keep working. The thought has been making me wet all day."
There's another sort of fantasy, the obvious one, the occupational one, that seem made for jokes or pornography…but when there's an unseen woman beneath your desk who's managed to get your cock out with a few quick movements, who's managed to get her lips around it and has placed it near the back of her throat, the cliché is blown apart and becomes exciting. My sexy secretary! Her hand on my balls, beneath my balls, slowly moving my throbbing dick between firm and puckered lips. I love blowjobs, but as one who generally likes to be in control, the ultimate pleasure is sometimes held off by my powerlessness, and by my friendly need to demonstrate the pleasure it's giving me. But, "Just keep working," she repeated, so I did (reading through recent posts on the site, actually, which admittedly made me even stiffer), and it took several minutes to accept her mouth as an anonymous one meant purely for my use, but soon enough I was having my cock sucked by a sexy secretary whose name and face I'd forgot. I didn't picture another's face or another's body. She was just the sensation of lips beneath my desk and a tightening in my balls. And a moaning, too, coming from between my legs. This strange woman was as excited as I was by the moment, and I had a glimpse of why her anonymous fantasy was such a turn on.
After a while I couldn't take it anymore and pulled her up, bent her over the desk until her face was pressed against the wood, and slipped up into a cunt that was wetter than it had been in weeks. I fucked a perfect, anonymous ass from behind and came quick with a guttural cry.
That night, with a friend over for dinner to whom she likes to talk sex, she couldn't resist: "I was a sexy secretary this afternoon!"
"Oh yeah?"
"On my knees beneath that desk, a blowjob while he read e-mails."
We laughed – that's my wife! – and I got hard again for a moment imagining her playing a thousand other anonymous roles in a thousand bathrooms across the city.
Need to catch up? Read the Sex Experiment from the beginning: Table of Contents
Then subscribe to our newsletter for a free copy of Mr. X's hot, hot novel, The Known Experiment, and choose to get updates on blog posts, books, and special offers.