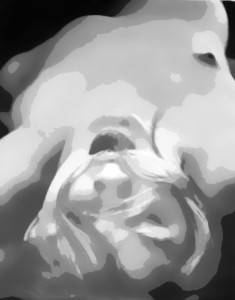 There is news from Alice. I only wish you were all at sex café the afternoon she walked in with her notebook to fuck a stranger with her mind and write it all down for her five-word experiment. I imagine she was quite a sight. I also may have to follow through with that threat of a good spanking (if only!). Alice is obviously a rebel, and she has a hard time following orders. Which is just one of the things I like about her. She has a tendency to make every experiment her own. Not that she couldn't use a little disciplining (and my mind idly wanders back to that spanking).
Anyway, she began by telling me about a current lover: He is an anarcho-communist, and seeing as how I run in activist circles (I find anarcho-communism amusing), he kept turning up. He recently graduated from a prestigious university with a degree in philosophy, concentrating on ethics. He has a perpetual 5 o'clock shadow, is a vegan, part of a hardcore punk band, finds my laughing when fucking/kissing odd. When he kisses he wants to either be completely in control or not at all. After Sunday night I woke up with bruises on my arms, scratches on my back, and bite marks on my hips. He had similar scratches down his neck, a swollen lip, and a few bite marks on his shoulders…. I'm going back tonight to watch a movie with him. I wonder what I should do….
"Anarcho-communism" sent me straight to Wikipedia, but then I didn't really care what it was all about. If Alice was involved, I wanted to be an anarcho-communist, too. I wanted to see for myself how a woman gets bite marks on her hips. But I didn't contemplate this for long. Alice launched right into the results of her experiment, without foreplay, as she tends to do:
Anyway. My assignment. 5'8. Brown haired. Black jeans. He has a Seasick t-shirt on, and glasses that keep slipping down his nose. The coffee shop I'm in is heavily frequented by college students from the three big schools in the area. It's known for its coffee, which is thick and dark. I ordered a big soy latte, five hits of espresso [editor's note: Five? I'm beginning to understand her better]. The man I want orders a soy chai latte [another editor's note: soy chai? he's in trouble], and he's looking at me.
I'm wearing my tight black jeans, black heels, and a tight t-shirt with no bra. I sit down and watch the man, and he smiles at me – trying not to stare at my tits. What I really want for him to do is to stop smiling. I want to stand up, and push him into my chair. I want everyone to see what's going on. I'd sit on him [I write in my notebook]. I bite when I kiss. I don't like any of that "soft kissing" unless it's followed by something rougher. People would be shocked, but they'd like it too. This turns me on, and I would bite his lip lightly before kissing his neck and ear. I would laugh – I always do when I'm turned on. I want him to be impatient, to want to rip my clothes off, but we're in public. I'd slide his hand up my shirt, and I'd let my fingers run across his now erect penis.
"Let's go to the bathroom," I'm panting, and a bit annoyed when he doesn't stand up quick enough. Once we get to the bathroom it's his turn. He locks the door behind us, and pushes me down onto my knees. He circles behind me, grabbing my arms.  I hear him unzip his pants, and he fucks me from behind. He flicks my clit before he pulls out. "Fuck yourself." He hands me a pen from his pocket. Then "Don't!" – my fingers are on my pussy, and he swats them away, growling: "Use the fucking pen."
I like fighting, so I toss the pen in the trashcan, and let my fingers circle my clit slowly at first, then faster. I moan, and he yanks my legs over his shoulders. I think he's going to fuck me, but instead his face is in my pussy. He drags a long wide tongue over my labia, nibbling at my thighs, before he starts to lick and suck on my clit. He slides two fingers into my pussy, building up a rhythm of suck-finger fuck-suck-finger fuck. I love to be finger fucked. When I come he has me lick my come off of his fingers, and kisses me. I laugh at him before pulling my jeans back on.
"See you later." I put down my pen. Oh, I'm trying not to blush. He says hi to me and asks if I'm going outside to smoke anytime soon. I say I have a paper to write, and grin.
Oh, Alice. She always leaves me wanting more. I'm obsessed by her rough play and her manic finger fucking, but I also want to know everything she doesn't tell: the light in the café, the feel of eyes on her, the way her body begins to vibrate as she writes. But Alice, she's always quick to tongues and pussies. She charges after orgasms like some horny laughing marauder, but then the quick danger of her is inseparable from her charm.
So I'll leave you quick, as Alice has left us (for the moment), with some immortal words: suck-finger fuck-suck-finger fuck.
Need to catch up? Read the Sex Experiment from the beginning: Table of Contents
Then subscribe to our newsletter for a free copy of Mr. X's hot, hot novel, The Known Experiment, and choose to get updates on blog posts, books, and special offers.