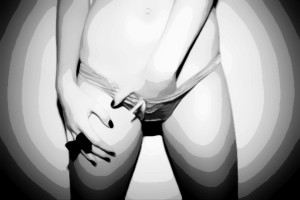 Beware a woman with a mohawk fetish. Do everything in your power to get her into your bed, but beware. You're in for a wild ride, particularly if her name is Alice – particularly if she's shown a penchant for having her clit sucked by a girl in a tight purple dress in the bathroom of a booming club. I'd missed her. I'd had fantasies about her. Hadn't you? Well, last week she sent me another e-mail. I sensed an emergency situation. I sensed a libido on the prowl. Naturally I wanted to help. Here's her e-mail:
Mr. X,
The more I think about sex and have sex, the more people notice. I had to share a tent during a storm with a stranger. He slid his hand up my shirt, sliding it around my stomach. He put his leg over mine. I stretched against him, but because I was running on forty-five minutes of sleep, I went to sleep when he didn't progress. I'm leaving this city in a few weeks. May I have an assignment to complete before I leave?
Longingly,
Alice
I wrote back suggesting we get to know each other better. Specifically, I suggested that she send me five words, a request I've made of several of the enterprising women who've written in looking for an adventure. Here's how I explained the five-word experiment to her:
Since I hardly know you (other than your mohawk fetish), why don't we try a little game to get us in the mood. You're interested in linguistics, I remember, so why don't you think very, very carefully about five words around which you'd like to have a fantasy constructed. Make them specific words so that I'll have something vivid to inspire my creativity. Then I'll send you an experiment, and this time I'll count on your success. Otherwise you WILL be spanked.
X
Perhaps it was the promise of spanking, but she wrote back in a flash:
Mmm…I like this. As soon as I saw it, the words "bite" and "claw" came to mind. But here are my words: Coffee. Public. Lascivious. Notebook (I carry a moleskine with me everywhere I go). Stranger. I had a hard time picking out words.… So maybe I should introduce myself further. I'm a political science/creative writing double major. I usually wear a red bandana. I have six ear piercings in total. I write. I am witty and well-read. I grew up in a country town near an inventor and failed beatniks. I am either hyper social, or a recluse. I'm also knock-kneed!
As I read, all I could think of was getting this wild woman up on a table at Sex Cafe , ripping off her clothes, and doing lascivious deeds together involving ear piercings…and other things. But I collected myself (ah, the sorrows of being a distant Mr. X) and wrote back:
Knock kneed! Well this is a shocking development.
But I'm happy to have more to imagine than your legs (and now your knees).
I dreamed up something more modest for you this morning, in which the experiment is more psychological, but which I do find extremely erotic. Put on something that makes you feel sexy. Dare as much as you can, but not so much that you'll be uncomfortable. Go out for a COFFEE in a place you like, a place I've been referring to in my mind as Sex Cafe. Make sure the place is full, and make absolutely sure that you sit at the most exposed table possible. There should be people on all sides of you, looking at you from every direction. There should be no place to hide at Sex Cafe. If the most exposed seats are taken, then wait until one is free. Then sit down and enjoy your coffee. Consider this foreplay. And as you sip, I want you to glance around the cafe until you see a STRANGER whom you could see yourself fucking in the right circumstances. Then I want you to take out your NOTEBOOK. Done? Ready?
Now begin to write a description of the sex you would have with this person. I want it to be the most LASCIVIOUS scenario that has ever crossed your mind. I want your hand to shock you with the words it curls out onto the page. All the while, I want you to keep watching the subject of your portrait there in Sex Cafe, this man or woman who is unwittingly posing for you. I want you to study the body you see for inspiration. I want you to look closely. And most of all, I want you to surprise yourself, to write yourself into some new place you might not have expected, to discover a lurking fetish or unearth a hidden proclivity. I want the experiment to excite you. I want you to be dripping wet at the thought of the words you're writing down so openly in PUBLIC. I want to imagine you constantly raising your hand to your neck in a conscious effort to keep it from dropping to your pussy. Will others notice your excitement? Will a stranger look over your shoulder? Will your model realize that they're being sketched? I'll be curious to find out. I'll also be curious to read what you write in your notebook. Just how dirty are you? Is it possible that I'll be shocked? How about the people who read the results of our experiment? My mind is racing with the thought of you sitting there, the thought of what's in your brain. Racing so fast that I can hardly concentrate on anything. I think it may be time for a coffee break over at my local Sex Cafe.
Literarily,
X
And so now we wait to discover how our beloved Alice will titillate us next. Are you inspired by the Coffee/Public/Lascivious/Notebook/Stranger experiment? Well why should Alice have all the fun? It's the sort of experiment that anyone can do, so to your notebooks, readers. There are millions of sex cafes out there, but not nearly enough sexual fantasies being written in them. So write them down, let others see you writing them down, because I know we'd all like to read about the uninhibited fucks you have lurking in your minds.
Need to catch up? Read the Sex Experiment from the beginning: Table of Contents
Then subscribe to our newsletter for a free copy of Mr. X's hot, hot novel, The Known Experiment, and choose to get updates on blog posts, books, and special offers.