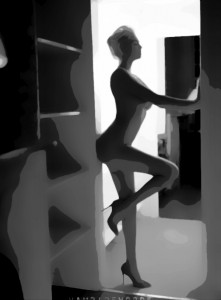 Within hours, Mona had responded to my erotic dare to strip in front of a window. Even though it was Mona, I was still surprised to see her name in my inbox (as 'Simone", which she's calling herself, although I'll call her by the pseudonym my wife originally gave her). My e-mail had been calculated to scare her off. Or to reap particularly spectacular rewards. Here's what she wrote:
[111 Mona's Street] – the balcony overlooking the empty lot at the end of [222 Another Street]
Tomorrow at midnight
That was it. No hello, no goodbye. Just the facts of where and when she would stand naked for an unknown man named Mr. X. Yes, she'd seen my dare and had raised me quite a bit. The thought occurred to me that my wife had set up everything to definitively discover Mr. X's identity. This was taking the notion of "friends with benefits" to whole new levels, and she wasn't even really my friend. Then I remembered that of course it was I who had proposed hiding in the bushes to watch Mona naked, and I also realized that as curious as my wife might be, she was having fun with Mr. X and had no more interest in seeing him revealed than I did. Enough with the questions. Never had a simple address made me instantly hard, and I was highly excited by the prospect of Mona. She was one formidable woman, and she had an indisputable sense of drama: Tomorrow at midnight. Then one more question before I quit: how was I going to explain disappearing for half an hour at midnight?
Typically I'll tell you what my wife reported before telling you what I (or we) did afterwards, but in this case I'll reverse the order, partly because this time the experiment depended on me (or at least me being in the bushes), but also because if this thing with Mona continues, there may not be "results" as before, or at least I don't imagine they'll be "results" we share in the same room. I'm saying that I doubt we'll become that kind of "friends with benefits", alas.
As midnight approached I could hardly contain myself. I paced around the four walls of my office, listening to music and working my way through dinner's bottle of wine. I felt like a man having an affair…whereas I was just a man going off into the night for a secretly arranged meeting to look at one of my wife's friends naked. I could see the headlines in my mind: Unsuspecting Local Woman Stalked By Local Pervert. The subtitles too: Romeo, weird Romeo, whyfore art thy pants down? Was I guilty? Was I betraying my wife? Not any more than I would in strip clubs, it seemed to me, which also happened to be some of my wife's favorite places in the world. Maybe the stripper here happened to be a friend, and maybe it was a private(ish) dance, but I had no doubt that my wife would have been the last person to object to Mona's bared tits in my private presence. So I felt no guilt. I didn't want to lie, though, as much for my sake as hers, because I didn't want to start playing too many games with Mona in my mind.
So midnight presented a problem. I didn't want to "meet friends", particularly not that late. So I decided I would have a cigarette. Sometimes when I'm working late I'll take a midnight walk and smoke one to clear my head. It's a private pleasure, indulged rarely (see how easily I lie?), that puts me back in the moment. There's a guy who sits out on the main boulevard all night and sells them individually. Also, Mona's place was just a few blocks over, so I would only be out for half an hour or so, which wasn't unusual. I had a clear picture in my mind of how Mona's apartment is situated. I had actually been there before to pick up my wife after a girl's night out. She lives on the second floor of a small, three-story apartment building between two dead-end streets. It's the last building on the first street, and it looks out onto the second street, which goes on a bit further and circles around in a cul-de-sac. There are big houses around this cul-de-sac, but below Mona's apartment there is a large, empty lot overgrown with wild flowering bushes and struggling (palm) trees.
I made my approach from the cul-de-sac wearing a baseball cap I hadn't touched in years. I stayed in the shadows, cigarette already in hand. I'd bought a lighter too (I end up doing it every time and have a growing collection). I was slightly nervous but incredibly excited – by the prospect of seeing Mona naked, but maybe even more by how outrageously daring she was. At least I hoped she would be. Then again, maybe she had already called the police to report a Peeping Tom. She was capable of that too, I knew.
Staying out at the far edges of the cul-de-sac, I circled around until I reached the empty lot. Most of the lights were off in the houses around, and although the moon was almost full, I didn't get the feeling that anyone had spotted me. I found a spot in the empty lot behind three shabby, low palm trees branching out from the ground. From there I could see Mona's balcony, and what light through yonder windows was breaking. She had the whole place lit up as if it was a party. I could see very clearly into the living room beyond the balcony, but nobody was there as far as I could tell. There was faint music playing, but nothing was moving anywhere inside. I wanted her to see my cigarette. That was part of the plan. I wanted to be the guy out in the shadows smoking the cigarette. I wanted her to see just that mysterious orange glow and imagine dashing spies who state their last name first. Also I didn't want to set those dying palms on fire. If that happened, the headlines would really get out of hand. So I pulled the cap down over my eyes and stepped back from the trees so that I was still fairly hidden, but visible from more angles.
Checking my watch in the moonlight, I waited for a minute or so, and at thirty seconds to midnight I lit the cigarette. Man, it felt good. Calmed the nerves and all that. Was precisely what I needed, lacking only a curvy blonde looking down at me naked from a balcony. You know the feeling.
She came out soon enough. Maybe she'd been watching from some hidden angle. Now one more thing before I get into this: Mona is really very sexy. She's one of those women whose various parts you could potentially criticize for hours if you were that way inclined, but when you take her as a whole your brain short-circuits and the current flows straight to your cock. She is not as slim as my wife, but she is tight, and she knows how to hold herself and knows how to move. Okay? You know a Mona (e.g. the blonde may or may not be entirely natural). Put her in mind.
Here it goes: halfway through my cigarette, Mona appears on the balcony – very casually, as if she's come out to ponder the constellations, although she looks directly at the tip of my cigarette, which is vanishing at about the same rate as my other tip grows. I am unconcerned by the police now. I just want to see Mona like this forever. She is wearing a long thin black robe that she has not belted around her waist and appears to be transparent. My eyes are locked on the paler gap of skin down her front (although she looks to have retained an all-over summer tan). The light on the balcony is strong enough to see her well as she flicks her hands up to her shoulders as if she's been brushed by two flies and flips the robe from her shoulders so that it cascades down to her feet. Naked she is magnificent. Her breasts are full and high, her stomach smooth and sensual, her hips curving wide. She flicks her blonde hair impetuously over her shoulder and tosses her chin – an empress disdainful of her gathered followers.
Grinning in admiration and desire, I can hardly restrain myself from jumping out of the shadows. I manage, but not before making one gesture towards the woman's erotic appeal. Taking care to stay hidden behind the trees, I remove the cigarette from my mouth and whip my arm to launch it towards her like a bottle rocket. One single firework for a sexy woman. She deserved a thousand, I thought, particularly when she turned, still the empress, revealing one of the most gloriously wide-but-still-smooth asses I had ever seen (at midnight from a distance, at least), paused for a moment for me to take in the spectacle, then strode back into the apartment, without looking back, until she was out of sight.
Need to catch up? Read the Sex Experiment from the beginning: Table of Contents
Then subscribe to our newsletter for a free copy of Mr. X's hot, hot novel, The Known Experiment, and choose to get updates on blog posts, books, and special offers.