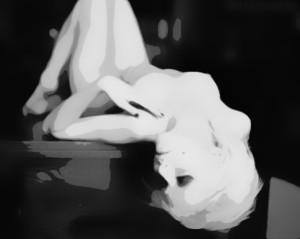 There is at least one glaring disadvantage to anonymously e-mailing sexual dares to a real-life acquaintance: when she comes back and blows your mind with her erotic mastery, you may find yourself unable to think of anything else for days on end.
I dared my wife's friend Mona to get herself a dare from someone else. She ended up having mad sex with a handsome new friend…and letting another handsome friend listen in over the telephone. This just about drove me insane with lust. It has also restored my faith in the kinky sex lives of my acquaintances. As well as causing me to spend an inordinate amount of time contemplating what I might do say or do the next time I actually see Mona in public. So far I don't have any ideas unlikely to end in catastrophe. So far my strategy is to maintain that perfect poker face and simply admire her in my mind. Poor strategy, if you ask me, but that's what I've got so far.
Her experiment has also gotten me thinking about what is technically called auralism. In other words, a fetish for sex sounds – voyeurism for the ears. In my experience, sex sounds, like every other aspect of good fucking, are a delicate art. Like a kiss or a fondle, you want a groan to enhance your excitement and hers (or his). In no circumstances do you want your bedmate to look at you strangely as if uncertain of what just happened. This is bad moaning, and you do not want to moan badly. It must be sincere, of course, but it must also be pitched to the moment.
In my book good moaning is just about one of the sexiest sex acts. Case in point: still unspeakably horny from Mona's adventure, I found myself in bed with my naked wife one afternoon and asked her to tell me about some of her ex-lovers. We've been together for a while, but in her early twenties she went on quite a tear, and so she's had many casual lovers whom we've never bothered talking about. My impression is that almost all of these were enjoyable one-night stands, but not exceptionally erotically satisfying. But I wanted to hear about some lover she had never mentioned before. She thought about this for a while, then with a smug smile on her face, she began to tell me about "Jonathan".
He hadn't been particularly bright or interesting, she began gently…but on several occasions they had spent whole days in bed.
"Tell me about it," I said. So she did, tentatively at first, then just telling a story, then relaxing until the dirty parts felt natural too. As she spoke, I began to get excited. She saw my dick climb up my hip and smiled. I began to fondle her breasts, her pussy (noting with satisfaction that the memories were making her wet). Eventually I couldn't keep my tongue from between her legs. "Keep talking," I murmured as the pleasure made her pause. "I want to hear everything."
Excitement was compounded. My tongue licked her pussy, which heated the words coming off her tongue, which made me harder and more ravenous for her pussy. "Don't. Fucking. Stop. Talking," I groaned. She tends to be a screamer, my wife, but not a talker, and this extended description (of the way "Jonathan" had fucked her in the kitchen counter of his parents' house) was an absolutely thrilling new development. When I had begun licking, Jonathan had merely possessed a penis. Now it was a "huge cock", and she was enjoying imagining it as my tongue went wild on her desire.
He had stripped off her dress and had fucked her right there on the kitchen counter, and rarely in her life had she been so sexually excited. She had screamed as he fucked her – he rowed crew and had this amazing body with a powerful back – until finally he had been forced to muffle her mouth with her hand as he fucked her even harder. The kitchen window was open, and she could hear a lawnmower outside.
"And you were screaming?"
"Yes!"
"And that excited you? The danger?"
"Yes!!!"
I couldn't stand it anymore. I had to fuck her myself, and I was on top of her in an instant for a passionate kiss. "Don't stop talking," I gasped, drawing back from her lips.
"Then he had me chest down on the counter. He fucked me from behind. I remember I'd never felt anything so big. His hand was tight over my mouth. I tried to bite him. He turned on the faucet. To hide the noise. But he never stopped fucking me. My cunt was screaming. And. And."
And she was screaming now, her tongue lashing me with filthy words, sex sounds crashing through the room. We fucked hard, but I wouldn't let her stop talking. I made her murmur and scream all the way through.
And neither of us had to explicitly mention our friends the neighbors. We haven't seen much of them since her last charged encounter with the husband, but we were both happy to let them hear our loud love. Whatever happens in the future, there was no doubt that they would appreciate it. I like to think I know an auralist when I see one.
I'm telling you, it got manic at one point, and with our sex sounds turned up to eleven, I couldn't help but wonder if Mona might be tuning in from her apartment a half a mile away. Hell, I even considered dialing her number on my wife's phone and letting her listen in, but then sometimes a fantasy should remain just a fantasy…at least until tomorrow.
Need to catch up? Read the Sex Experiment from the beginning: Table of Contents
Then subscribe to our newsletter for a free copy of Mr. X's hot, hot novel, The Known Experiment, and choose to get updates on blog posts, books, and special offers.